Greetings from stormy British Columbia,
The weather continues to be challenging for us here in the Pacific North West. A series of storms has battered the coast, wiping out a pier that I used to enjoy walking on, and forcing us to cancel our Christmas plans to visit friends on the Island of Mudge (yes, that's a real place. I'm really not making it up.)
Even without inclement weather and sudden itinerary changes, December is a busy month for us. Along with Christmas, we also celebrate Hanukkah, my wife's birthday, and the anniversary of our first date. But this year, I've added one more reason to celebrate.
The new cover for The Skyrider of Renegade Point has arrived!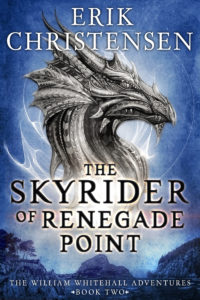 A great big thank you to Karri, whose simple but elegant design sense matches my own perfectly. She took my rambling descriptions of what I wanted, and turned it into the perfect representation of what was in my head—or perhaps a better version of it. Art, in my mind, is about turning a vision into reality. Doing so with words is one thing, but to do so with images is something far beyond my capabilities, so I always admire those who can do it. Especially when it's this good!
There's still plenty for me to do before I can release Skyrider next month. I have to write the front matter and back matter, format the book, update my web site and Facebook page with new graphics, write my Amazon author profile…well, the list goes on. Fortunately, these are all things I can do inside.
Happy Reading,
Erik