I have exciting news today.
In a little under a week, The Skyrider of Renegade Point will be officially released! This has been a long time coming, and I couldn't be more excited. My heart is pounding so hard that my Fit-bit actually thinks I'm exercising!
Pre-orders will be available on some retail sites within a day or two, and to celebrate the release the price will be reduced from 4.99 to just 2.99 for the first two weeks.
In case you missed it the first time, here's a picture of the cover: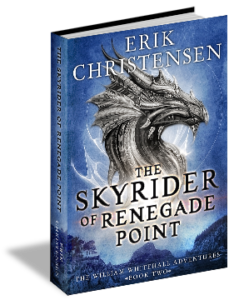 I plan on making a couple more posts before the release, so if you have any questions about the book, add a comment below and I'll do my best to answer it in my next post.
Happy Reading!
Erik